Bilingüismo e identidad juvenil: aportes etnográficos para la enseñanza del quechua en secundarias urbanas
Resumen
A pesar de la larga trayectoria de la EIB en la región latinoamericana, contamos con pocas investigaciones sobre las prácticas y significados de la enseñanza de lenguas originarias al nivel secundario y en contextos urbanos, áreas a las que busco contribuir. En este artículo, argumento la necesidad de reconocer el fenómeno del bilingüismo mas allá del dominio de una lengua, interesándonos también por las prácticas y significados del bilingüismo para los jóvenes, la relación que guarda con sus identidades y sus consecuencias simbólicas y materiales para los individuos. Basado en datos de una etnografía de 20 meses realizada en Cusco, Perú, doy a conocer la diversidad y complejidad de los repertorios comunicativos y las trayectorias lingüísticas juveniles, las representaciones negativas y positivas sobre los (no) hablantes de quechua que los jóvenes enfrentan, construyen y transforman, y finalmente, sus críticas y demandas para la enseñanza del quechua. Concluyo ofreciendo implicancias educativas para la construcción de la enseñanza de lenguas originarias en contextos urbanos.
Citas
Agha, A. (2007). Language and Social Relations. Cambridge University Press.
Andrade, L. (2019). Diez noticias sobre el quechua en el último censo peruano. Letras (Lima), 90(132), 41–70. https://doi.org/10.30920/letras.90.132.2
Barton, D. y Hamilton, M. (2004). La literacidad entendida como práctica social. En V. Zavala, M. Niño-Murcia, P. Ames (Eds.), Escritura y sociedad. Nuevas perspectivas teóricas y etnográficas (pp. 109-140). Lima, Perú: Red para el Desarrollo de las Ciencias Sociales en el Perú.
Blackledge, A. y Creese, A. (2010). Multilingualism: A Critical Perspective. Continuum International Publishing Group.
Blommaert, J. (2009). Ethnography and democracy: Hymes's political theory of language. Text & Talk, 29(3), 257–276.
Blommaert, J. y Backus, A. (2013). Repertoires Revisited: "Knowing Language" in Superdiversity. Working Papers in Urban Language and Literacies, 67, 1–26.
Bucholtz, M. y Hall, K. (2005). Identity and Interaction: A Sociocultural Linguistic Approach. Discourse Studies, 7(4-5), 1–30.
Córdova, L. (2015). Buscando nuevas generaciones de hablantes: procesos ambivalentes en la revitalización de lenguas indígenas del Sur de México. En: J. Cru (Ed.), The Role of Youth in Language Revitalization (pp.76-86). Linguapax.
Coronel-Molina, S. M. (2015). Language Ideology, Policy and Planning in Peru. Multilingual Matters.
Cru, J. (2021). Rap en lenguas originarias: de la recreación artística a la denuncia sociopolítica. Ichan Tecolotl, 345. https://ichan.ciesas.edu.mx/rap-en-lenguas-originarias-de-la-recreacion-artistica-a-la-denuncia-sociopolitica
Erickson, F. (1986). Qualitative Methods in Research on Teaching. En: M. C. Wittrock (Ed.), Handbook of Research on Teaching (3ra ed., pp. 119-161). MacMillan.
García, O. (2009). Bilingual Education in the 21st Century: A Global Perspective. John Wiley & Sons.
Guerrettaz, A. M. (2020). ¿A quiénes les pertenece el maya yucateco? Revitalización y políticas lingüísticas en Yucatán, México. En: M. Niño-Murcia, V. Zavala y S. De los Heros (Eds.), Hacia una sociolingüística crítica. Desarrollos y debates (pp. 267-302). Instituto de Estudios Peruanos.
Hecht, A. (2018). Maestros/as Indígenas en contextos de desplazamiento lingüístico: desafíos y dilemas contemporáneos. Cuadernos del Instituto Nacional de Antropología y Pensamiento Latinoamericano, 26(2), 87–100.
Heller, M. (2020). Hacia un enfoque social del bilingüismo. En: M. Niño-Murcia, V. Zavala y S. De los Heros (Eds.), Hacia una sociolingüística crítica. Desarrollos y debates (pp.115-147). Instituto de Estudios Peruanos.
Hornberger, N. (1989). Haku yachaywasiman: la educación bilingüe y el futuro del quechua en Puno. Programa de Educación Bilingüe de Puno.
Hornberger, N. H. (2014). "Until I Became a Professional, I Was Not, Consciously, Indigenous": One Intercultural Bilingual Educator's Trajectory in Indigenous Language Revitalization. Journal of Language, Identity & Education, 13(4), 283– 299.
Huayhua, M. (2017). Interacción social y racismo en el transporte público puruano. En V. Zavala y M. Back (Eds.), Racismo y Lenguaje (pp. 83-114). Fondo Editorial PUCP.
Hymes, D. H. (1972). Models of the Interaction of Language and Social Life. En: J. J. Gumperz y D. Hymes (Eds.), Directions in Sociolinguistics: The Ethnography of Communication (pp. 35-71). New York, NY: Holt, Rinehart and Winston.
Instituto Nacional de Estadística e Informática [INEI] (2017). Perú: Resultados Definitivos de los Censos Nacionales 2017. XII de Población, VII de Vivienda y III de Comunidades Indígenas. INEI.
Kvietok, F. (2019). Youth bilingualism, identity and Quechua language planning and policy in the urban Peruvian Andes. PhD dissertation, University of Pennsylvania.
. (2021). "Llegando a secundaria les ha dado amnesia...ya no quieren hablar": Indigenous Speakerhood Socialization and The Creation of Language Deniers in Quechua Education. Linguistics and Education, 61. https://doi.org/10.1016/j.linged.2020.100888
Leonard, W. Y. (2012). Reframing Language Reclamation Programmes For Everybody's Empowerment. Gender and Language, 6(2). https://doi.org/10.1558/genl.v6i2.339
López, L. E. Küper, W. (1999). La educación intercultural bilingüe en América Latina: balance y perspectivas. La Revista Iberoamericana de Educación, 20, 17- 85.
Mamani, C. (2019). Desarrollo de capacidades interculturales a través de la incorporación del diálogo de saberes con niños y niñas del sexto grado de una escuela primaria EIB de la región del Cusco. Tesis de pregrado, Universidad Peruana Cayetano Heredia. https://hdl.handle.net/20.500.12866/8558
Martin-Jones, M. (2007). Bilingualism, education and the regulation of access to language resources. En: M. Heller (ed.), Bilingualism: A Social Approach (pp. 161–182). Palgrave Macmillan.
Mendoza, Z. S. (2008). Creating Our Own: Folklore, Performance, and Identity in Cuzco, Peru. Duke University Press.
McCarty, T. L., Romero-Little, M. E., Warhol, L. y Zepeda, O. (2009). Indigenous Youth as Language Policy Makers. Journal of Language, Identity, and Education, 8(5), 291-306.
Miles, M. B., Huberman, A. M. y Saldaña, J. (2014). Qualitative Data Analysis: A Methods Sourcebook (3ra ed.). Thousand Oaks, CA: SAGE Publications.
Resolución Ministerial 519-2018-MINEDU. 20 de setiembre de 2018.
Niño-Murcia, M., Zavala, V., y De los Heros, S. (2020). Hacia una sociolingüística crítica. Desarrollos y debates. IEP.
Paris, D. y Winn, M. T. (Eds.) (2014). Humanizing Research: Decolonizing Qualitative Inquiry with Youth and Communities. SAGE Publications.
Sichra, I. (2006). Enseñanza de lengua indígena e interculturalidad: ¿entre la realidad y el deseo? PROEIB Andes.
Sumida Huaman, E. (2014). "You're Trying Hard, But It's Still Going To Die": Indigenous Youth and Language Tensions in Peru and the United States. Anthropology and Education Quarterly, 45(1), 71–86.
Unamuno, V. (2013). ¿De qué hablamos cuando hablamos de bilingüismo en EIB? Notas desde el Chaco. En: M. Censabella y C. Messineo (Eds), Lenguas indígenas de América del Sur II. Morfosintaxis y contacto de lenguas (pp. 171-188). Editorial FFyL-UNCuyo y SAL. http://www.ffyl.uncu.edu.ar/spip.php?article3977
. (2015). Los hacedores de la EIB: un acercamiento a las políticas lingüístico-educativas relativas a la educación indígena desde las aulas bilingües del Chaco. Education Policy Analysis Archives, 23(0), 101. https://doi.org/10.14507/epaa.v23.2061
Valdés, G. (2015). Latin@s and the Intergenerational Continuity of Spanish: The Challenges of Curricularizing Language. International Multilingual Research Journal, 9(4), 253–273.
Walsh, C. (2012). Interculturalidad crítica y (de)colonialidad. Ensayos desde Abya Yala. Ediciones Abya Yala.
Wolcott, H. F. (1987). On Ethnographic Intent. En: G. Spindler y L. Spindler (Eds.), Interpretive Ethnography of Education: At Home and Abroad (pp. 37-56). Lawrence Erlbaum Associates.
Wortham, S. (2005). Socialization Beyond the Speech Event. Journal of Linguistic Anthropology, 15(1), 95–112.
Zavala, V. y Córdova, G. (2010). Decir y callar: Lenguaje, equidad y poder en la Universidad peruana. Fondo Editorial PUCP.
Zavala, V., Mujica, L., Córdova, G. y Ardito, W. (Eds.). (2014). Qichwasimirayku: Batallas por el quechua. Fondo Editorial PUCP.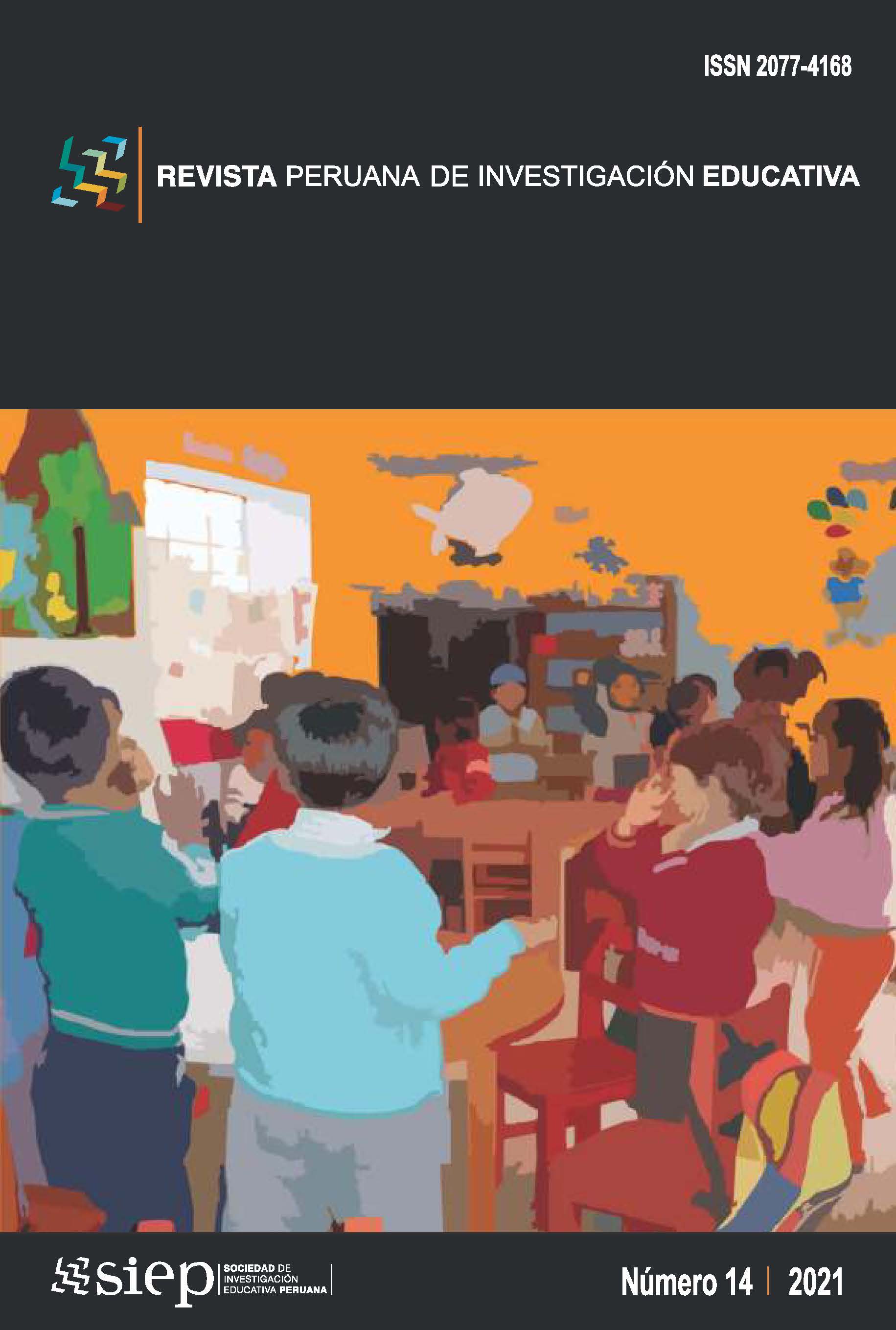 Publicado
31-07-2021 — Actualizado el 02-08-2021
Cómo citar
Kvietok Dueñas, F. (2021). Bilingüismo e identidad juvenil: aportes etnográficos para la enseñanza del quechua en secundarias urbanas. Revista Peruana De Investigación Educativa, 13(14). https://doi.org/10.34236/rpie.v13i14.292 (Original work published 31 de julio de 2021)
Licencia
Derechos de autor 2021 / Frances Kvietok Dueñas
Esta obra está bajo una licencia internacional Creative Commons Atribución-NoComercial-SinDerivadas 4.0.